Naas AC Juvenile Training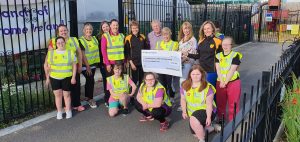 Streets of Naas proceeds donated to Kildare Down Syndrome Ireland
Naas AC were delighted to go ahead with the presentation of the donation from the Streets of Naas to Kildare Down Syndrome Ireland.
Pictured here are club chairperson Evelyn McNelis and club treasurer Ann Marie Feely making the presentation.
Comments from An Garraí Beag: 
'Huge thanks to Naas AC and the Walsh family for their very generous donation to Kildare Down Syndrome Ireland's horticultural project, An Garraí Beag in Sallins. We received a share of the proceeds of the recent virtual "Streets of Naas" in memory of our good friend Sheena Walsh.
Evelyn, Anne-Marie, Vincent and Tara met up with our Teen Youth Club who are availing of hort during July in An Garraí Beag.
Sincere thanks to all who took part, donated and helped make that weekend a great success 
'
Pictures from the Streets of Naas event can be found
here
.
Marathon for the Alzheimer's Society of Ireland
It was a bright and sunny morning on Saturday June 12th when Graham Halton and Sean Brophy set off from the Harbour in Naas on their marathon in aid of The Alzheimer's Society of Ireland. Graham is the son of well-known Naas AC club member Gerry Halton. Club member Ger McKechnie also ran the full 42.2km with Graham and Sean, with Ger acting as pace-maker for much of the route.
Graham and Sean were joined by a collection of Naas AC club members at the start line who ran several km's in support of this worthy cause. Some of the runners on the day included David, Anne-Marie, Jacinta, Kitty, Alan, Tracey, Tom, Liam, Leah, Vinny, Ruth, Anne-Maria and Cathal .. among others – apologies if we left anyone out.
Other supporters on the day included Alli & kids, Ciara, Layna and Frank who all helped out with water stations, along with Conor, Ben, Kenny, Tara, Paul, Cathy and Yvonne who cheered the guys on at various stages during the day.
You should be able to pick out a few familiar faces from the pics at this link!
Latest Covid-19 guidelines from Athletics Ireland can be found here.
This information is updated regularly by AAI. Please contact web@naasac.com if the link is not working.